CH GOLDEN KING'S KING (8XW, 1XL) ROM
Ex Gr Ch King was my first Gamedog . I bought him in 1993 when he was 18 months old as a one time winner. I won with him 7 more times after that . Ch Kings pit weight was 27.5 versus Ch Sony who came in at 26 kg. His last match CH King was too much over his natural pit weight he weighed in at 29 kg and was 8 years of age. In this show Ch King proved to be deadgame. He died soon after the show from the amount of damage he sustained. Ch King before his passing proved to be a great producer as well as match dog he left many quality dogs on the ground whom have fought around the world.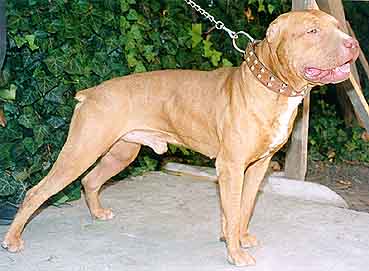 Champion King was a Neblet bred dog and as I previously said my first gamedog . Later on I switched to sorrell bred dogs. While Ch King was alive I was looking for a bitch to breed to him, I came across the opportunity to purchase a whole litter ,which turned out to be very good . From that purchased litter came Ch Silver Vidra 2xw 1xl Ahill 2xw 1xl who loss because 2 days before the match he got sick. It was obvious to all in attendance that Ahill was the better dog unfortunately after the match he died . I would also like to mention Vidra a bitch that was a 2xw 1xl that was lost in a kennel accident in my pals yard . I think that Ch Silver made an accomplishment that no hasn't been repeated . He won against 3 Gr Ch and 1 Ch ,he has one game loss in his second match,that he made up for by defeating Gr Ch black mup.
The dog responsible for killing the dog that had beaten Ch Silver .My opinion is that Ch Silver is a dog that you can spend a lifetime trying to acquire. After I saw the quality of sorrell bred dogs I was hooked . To be honest I did have much more success with sorrells blood than the line that I originally started with. I still belive that I have some of the best working dogs alive , for example Gr Ch Kid 6xw D.O.Y 2013 who is open to the world. I like to say that the dogs that I feed are no longer sorrell dogs But Ch Silver dogs .
To name a few of the great dogs that I have owned and campaigned . Ch and Gr Ch, Gr Ch King, Ch Silver, Ch Opar, Ch Oxa, Ch Krokodil, Ch Fida, Ch Hag, Ch Tekal, Gr Ch Kid……
By : Pera Golden King
Share on Facebook