The following is a short account of the life of a sporting bitch that produced some of the best sporting dogs that this country has ever seen. Limey Kennels "Tug" ROM."Tug" was born on the 26th February 1980, at Eddie Curtis' yard in Boston, Mass. She was one of a litter of six, the others being "Bunny", "Bugsy", "Toby", "Blaithe" and "Lochen". This final pup "Lochen" was destined to earn his Championship in very short order, with none of his opponents lasting more than the 25 minute mark. He had an extremely 'hard' mouth and many of those who saw him work believed him to be one of the best dogs that they had ever seen..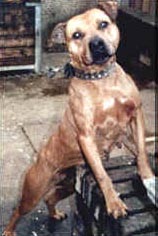 "Tug" was bought and raised in Virginia by Frank Milen, who had acquired her from Mr.Curtis who had originally called her Curtis' "Buffy". Some time later, King Limey and the Welshman were visiting the U.S. looking to buy some good American blood. They were informed that Mr. Milen was looking to get out of the dogs and so they decided to pay him a visit and see if there were any dogs to buy. After visiting for a while, they decided to buy a young dog called "Ernie Buck Jnr.". Mr. Milen surprised them both by including "Tug" ("Buffy") as part of the deal. The dogs were exported to Britain and "Tug" was opened to to match.
Her first opponent was a well respected Staffordshire called "Dillenger", who was out of "Jepsons Gamestock", a Staffordshire bloodline which was very much sought after at the time. "Tug" weighed in at 36lb, with her opponent weighing in at 43lbs. Both dogs ran 15 scratches with "Dillenger" being picked up at the 2.16 mark.
After this match "Tug" was mated with the famous "Nelis" dog. The resulting litter were to become something rare in 'sporting' dog circles, a ROM litter, producing 3 Champions from the same birth. There was Ch."Gnasher", Ch."Smuggler" and Ch."Dutch". The production of this litter elevated both "Tug" and "Nelis" to the highly prestigious ROM status, the first time such an award had been given to dogs from outside of the United States.
"Tug's" second outing was against a well bred St.B's bitch called "Sarah". The match was held in Holland with "Sarah" losing in 1.06, but providing a very game courtesy scratch.
Returned to England after the required quarantine period "Tug" was again mated with the "Nelis" dog. This time however, the resulting litter was much smaller than the first and only two of the pups became workers. The first was Dirty Harry's "Kelly", a one-time winner and one-time loser. The second pup was Dirty Harry's "Ghoster", a one-time winner and one-time loser.
"Tug's" third match was to have been against Bad Bruce's "Bella", but on the day "Bella" came in four pounds over the made weight. King Limey took the forfeit and the match never took place. It was at this time that he announced "Tug's" retirement.
She was mated to Ch."Spike", the sire of the "Nelis" dog which produced some good dogs. The main dog of note was the exceptional Ch."Alligator", who became a three-time winner and drew once. "Tug" died on 29th April 1989 from natural causes. Her passing was eased with the knowledge that her name as one of the finest producing game bitches will continue to survive for many years to come.
From The Bull Terrier Times Magazine
Share on Facebook